How to recover from social media failures
Whether a major corporation or a small family-run business, no firm is immune from making a social media blunder. Despite the fact that erring is human and we all know it will happen sooner or later, there are several strategies to drastically limit the likelihood of making mistakes on social media. However, you should learn how to react swiftly, refocus, and recover rapidly. Let's have a look at how to do it:
---
Recognize the mistake right away
Users expect businesses to respond quickly and transparently, especially if a mistake has been made on social media. In certain cases, such as when confronted with a seemingly innocent tweet that later becomes offensive, the best thing you can do is to openly confess the error as soon as possible. When the news starts to spread, people will rush to your corporate account for news. Bloggers and influencers will start posting about the error; people who feel offended and called into question will write you comments and emails, and everyone else will share your mistake and challenge you, publicly and privately. So: Activate now. Even if you are still not sure what happened, you are aware of the problem and you are trying to solve it.
---
Do not censor negative feedback
Volkswagen asked its Facebook followers what they expected from the company for 2012, but when they proposed this survey they absolutely had no idea that more than 1000 people would show attention and interest to the environment. And how did the car manufacturer behave? Obviously they ignored the comments, but not only! They also removed a lot of negative feedback.
A recent Italian epic fail was the one suffered by Piovono Zucchine, a vegan restaurant in Brindisi run by two young chefs: Simona Avallone and Annalisa Presta. The restaurant, inaugurated 10 months earlier, had managed to create a fresh and innovative image of itself. Then, on a Sunday in October, the restaurant decided to post a statement on its Facebook page about the earthquake that had struck the Marche region just a few hours before. What about the post's copy? "Dolcetto o Terremoto? Open on the 31st, for dinner " (they wanted to allude to the Halloween "Trick or Treat?" question, replacing "Trick" with "Earthquake", ed).

The image published by the vegan restaurant has gone viral, triggering a wave of anger and indignation. Instead of apologizing, Piovono Zucchine has opted for an irreverent and provocative communication. The restaurant's owners have stated and underlined that such choice had not been the result of a gaffe, but made in accordance with a very definite and well-established editorial and communication line. As a cruelty-free restaurant, their mission is to raise awareness. Of course, there were hundreds upon hundreds of comments after the image was published:

Finally, the restaurant's online reputation was ruined by a deluge of negative reviews. In just a few hours, Piovono Zucchine went from a 5-star Facebook rating to a 1.4-star rating. On Tripadvisor, the same thing happened. Subsequently, the restaurant owners began to attack people who expressed indignation, discomfort and disagreement.

So here is an example of something you DON'T have to do. Never remove unfavorable feedback, don't insult commenters, and don't insist on justifying yourself. It will make you appear much more guilty, as well as enrage social media people who have spent time responding (and who will make sure that the news of your censorship attitude is shared far and wide). However, there is a distinction to be made between unpleasant reactions and ruthless trolls. The latter can easily be distinguished from dissatisfied customers since they frequently insult others, make numerous language errors, and exaggerate. A lot. However, a few months later, Piovono Zucchine appears to have recovered and, according to the tone of today's comments, they have adopted a far more gracious and polite dialogue. At Hootsuite they used negative feedback in a video of the brand and used it to inform users about current adjustments and improvements made. The majority of participants appreciated the transparency and the constructive use of negative feedback.
Social Media is a public space. Let your page stay open and respond to people who are critical towards your brand. A simple response can assist in shifting negative perceptions to positive ones.
---
Excuse yourself, for real
If you make a mistake, apologize (and mean it), otherwise the anger of social people won't disappear. After releasing data and facts concerning obesity while advertising the screening of the movie "What the Health", the cosmetic brand Lush issued an apology on Instagram. The enterprise was accused of making fun of overweight people and ignoring the importance of communicating positive values on everyone's body.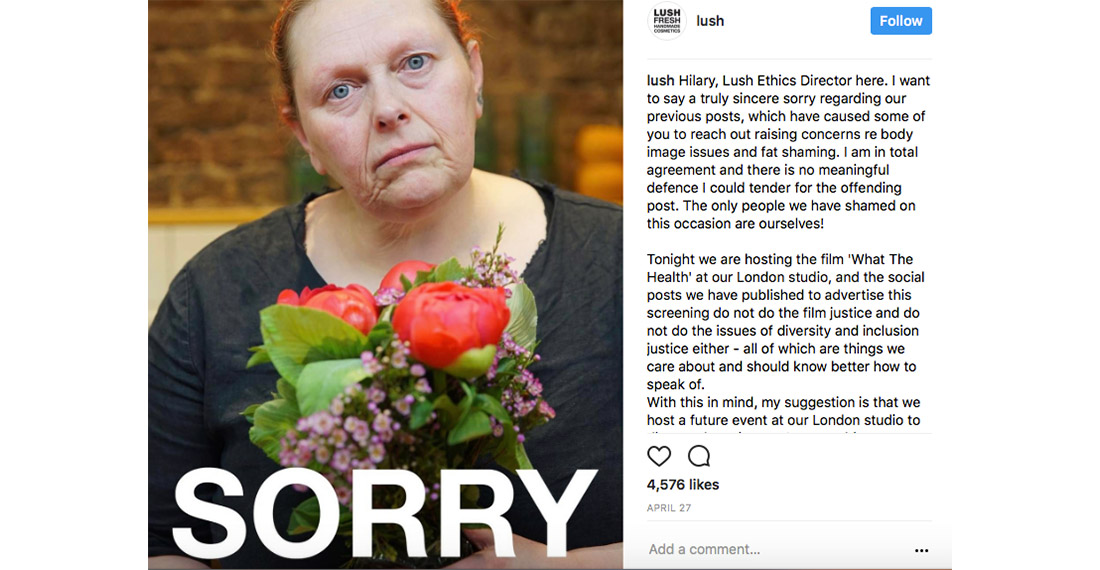 The apology included a photo of Hilary Jones, Lush's Ethical Director, with a bouquet of flowers. Lush managed to demonstrate to the audience that they were sincerely sorry for the mistake by connecting a real person to the excuse, as well as by encouraging a constructive dialogue in the comments section. So, when you apologize, do it for real.
---
Be open and honest about how you intend to fix the mistake
Of course, apologizing is not enough. Explain to your followers the changes you've made to ensure you don't make the same mistake again. When Starbucks launched its #RaceTogether campaign to combat racism, the public reacted quickly, accusing the company of making an empty and superficial gesture that was not backed up by any real company initiative. Starbucks immediately responded, actively listening to public criticism. Recognizing the failure of the #RaceTogether social media campaign, Starbucks President Howard Schultz decided to hire 10,000 refugees worldwide over the next five years. Sharing concrete steps, as Starbucks has done, will assist you in shifting your company's perception from negative to positive.
---
Connect with influencers in your community of followers
If you are active on social media, it is likely that you interact with users who have a large number of followers on a regular basis. When a social media post fails, don't be afraid to reach out to your loyal followers in a more personal way, especially if they are already commenting on the topic. Allow them to gather additional information and details to assist you in spreading positive news about yourself. In a short time, they will help you put out the fire that is burning you alive, and please remember to thank them when the storm is over. From that moment on, they will be on your side and could give you further support in the future.
---

Don't forget about your mistakes
Social media never forgets. Don't listen to them if they tell you to forget and move on. On the contrary, your mistakes will be republished, you will be used as a negative example, and the news, one way or another, will always be available online. If they comment on the event for days, weeks, or months, always reply to users. Try to share the insights you had following the episode and try to send positive messages. Customers searching for your online business will most likely come across the social failures that have received public attention. And if they ask for details, be forthcoming. This level of transparency can only benefit your company in the long run. ​​Then, remember to inform and educate your staff on the proper use of social media by sharing the editorial agenda, content details, the type of communication you want to make, and the tone of voice you've chosen.
---
Share your experience with others
Failures teach us valuable lessons that can help others avoid making the same mistakes. Don't be afraid to share your experience with the audience. Write a blog post about your company; post a short video about what happened and the solutions you discovered; discuss the solutions you've adopted to correct your mistakes. Sharing experiences, of any nature, is an excellent way to humanize your brand.
---
Don't let the mistakes scare you
When something bad happens on social media, your team or company stakeholders may become concerned enough to request a downsizing of online marketing activities. Ignore them. For a short time, stop promoting the brand (just long enough to make up for the mistakes), but return to work as soon as the dust settles. Keep sharing content and listen to your community. Social media is beneficial to your business: the worst outcome of a social media failure would be giving up on opportunities.
link to contatti
Would you like to know more?
Write what you think, we love to exchange opinions!